This article provides a brief overview of some criminal cases from the Portland 2020 uprising, and discusses some lessons that can be learned from them. We try to identify and name snitches, including informants and journalists whose work has helped the state, and describe the tactics used by law enforcement, especially undercover agents. This article is obviously incomplete, and there is far more evidence, cases and stories than we could possibly find ourselves and include here.
Send us any information about snitches in the Portland area, "journalists" who've helped the state, or experiences with undercovers: get_stitches@riseup.net OR get_stitches@protonmail.com.

Since the 2020 uprising, informants in Portland have played a key role in serious protest arrests. At least one snitch is still active in anarchist and "protest" adjacent circles in Portland. Wyatt Dylan Scully, AKA Alaska Scully, AKA Putty, snitched on Sofia Johnson AKA Sofia DeFerrari, who is currently serving time in an Oregon prison for her actions during the uprising.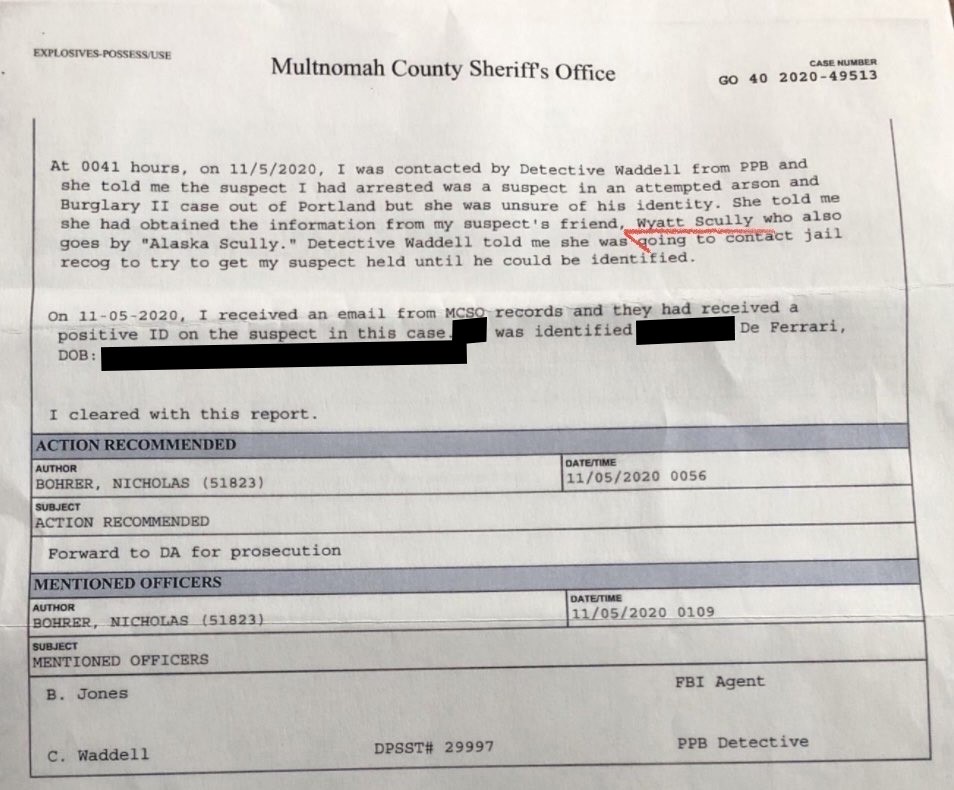 Note: We've redacted Sofie's deadname in the legal documents.
Scully and Sofia were both arrested on November 4, 2020, after a rowdy protest in downtown Portland that defied a massive multi-department police occupation involving the deployment of the Oregon National Guard. Sofia, Scully, and several others, were arrested in a parking garage of an office building. They were all charged with trespassing. According to arresting documents, at least one FBI agent, Benjamin A. Jones, was with the group in an undercover capacity in black bloc. Jones claimed that he saw Sofia break at least one window with a hammer, which was recovered by the Portland Police upon her arrest. A second FBI agent testified in the grand jury against Sofia, Ryan C. Hall. All were taken into custody. While in police custody, shortly after midnight, Wyatt Scully told a PPB detective about Sofia's involvement in other crimes under police investigation. Scully was released the next morning and the county declined to pursue charges. Sofia, who had given a name and birth date that didn't match her legal info, was held in jail.
Supporters of Sofia Johnson, who is serving out a 90 month sentence at the Coffee Creek prison, have launched a website that hosts writings from Sofia, updates on her status, and ways to donate to her. We strongly encourage folks to send money to Sofia through JPay (OR, 23976151), or through the website https://www.freesofiajohnson.com/donate/ (we suggest viewing through Tor). If you cannot donate, we recommend that you write a letter to Sofia and other political prisoners mentioned in this article. More details about writing letters to prisoners and upcoming events can be found at the bottom of this article.
We are aware that Wyatt Dylan Scully AKA Alaska Scully AKA Putty, has been continuing to show up at protests as recently as July 2022. Snitches like Scully should not be allowed in any anarchist spaces, as they pose an immediate danger to anyone around them. We are aware of allegations that have been posted to social media detailing an abusive relationship that Sofia was in prior to their arrest(s), but we do not believe that those allegations mean that we should abandon anyone currently being tortured by the prison system.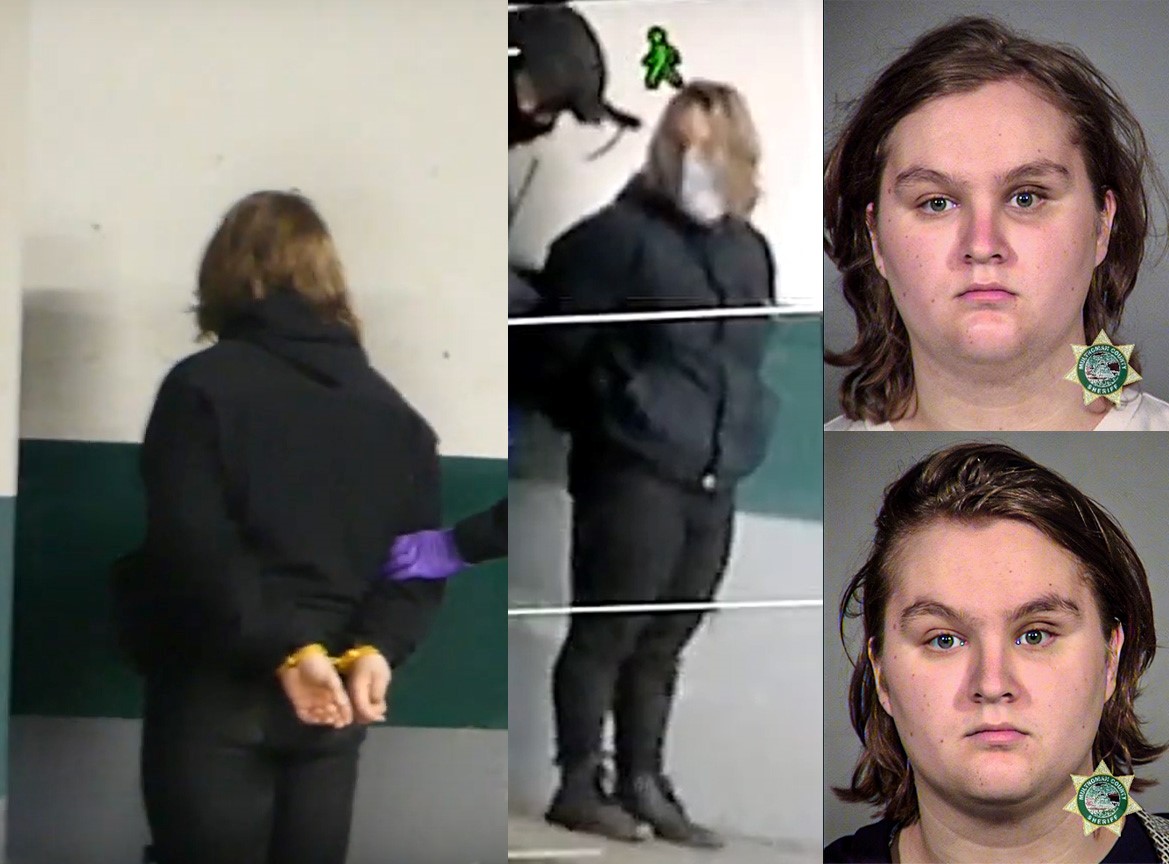 FBI agents have been working undercover at Portland protests and assisting with investigations into protest-related crimes. Pairs or groups of FBI agents in black bloc will tag along at protests until people start to get rowdy, then they will follow a person or crew that they saw commit a crime. We know of multiple arrests where an undercover FBI agent followed people away from a protest, in some situations even after folks have de-bloced or changed clothes, and communicated their location to local police so they can make the arrest. On the election night protests where Sofia was arrested, another person was also tailed by an FBI agent in black bloc and arrested.
Looking at available evidence from the 2020 uprising and other recent events in Portland, the role of undercover FBI agents at riots and protests is primarily to observe, follow people, and gather intelligence (which is shared with local police departments) in the moment and also to support police with more serious investigations in the long term. This to facilitate a targeted arrest by local police at the event, or to identify someone for arrest in the future. There is no evidence that FBI agents have acted as "agent provocateurs", as many claim online. The FBI agent is not the one smashing out the first window at the riot, its the guy following that person as they leave the crowd.
If you and your crew get rowdy at a protest, it is a good idea to leave the event before the police intercept the crowd and are in a position to make targeted arrests. Facing off and fighting the police is valuable, but that might not be the role for you if you've already taken actions to gain the focus of law enforcement. If you have, when leaving, make sure you are only with people you know. Although it can be tempting to leave a protest in a larger group for safety, you should avoid de-blocing with folks you do not know if there's a chance an undercover in the crowd would have reason to tail you or a friend specifically. Watch your back and stay safe.
If something does not feel right, or if you fear you are being followed, cutting back into the main protest crowd can be a viable option. If someone you do not know tries to leave  with you and your friends, they are not necessarily an FBI agent, but it might be a good idea to politely telling them to fuck off, before doing whatever you need to keep yourself free.
We also know that in addition to what they can see themselves, police rely heavily on livestreams and videos online to make targeted arrests during and after protests. The best way to keep yourself and those around you safe from that threat is to smash cameras and cellphones. We also recommend bringing multiple layers of bloc so you can change your look throughout the event. Taking off a hat and losing a jacket can make it significantly harder for police to track an individual through a crowd.
Gavaughn Streeter-Hillerich was arrested for his role in an insurrection at the PPB North precinct on June 25, 2020 and is currently being held in the Oregon State Penitentiary. Gavaughn allegedly started a fire on the exterior wall of the building complex that includes the North precinct, pushing a burning dumpster against the plywood on the wall. Unfortunately, the fire was put out by peace police who claimed that Gavaughn, a Black man, was actually setting fire to a "Black owned business" and was "hurting the movement." One arrest was made in the days that followed, and Gavaughn was tracked down and arrested later. His case went federal. The affidavit describes how on June 27, 2020, just two days after the protest at the North Precinct, an individual approached PPB and offered to submit video footage of the alleged arson. A detective from the PPB met with the snitch on July 1, 2020. They provided video that showed a person lighting the fire, arguing with peace police, and then leaving the area by getting into a vehicle that was parked in a nearby parking lot. The snitch is not named in the affidavit, but the federal affidavit mentions that "his/her video camera was used to record protest activities around the city."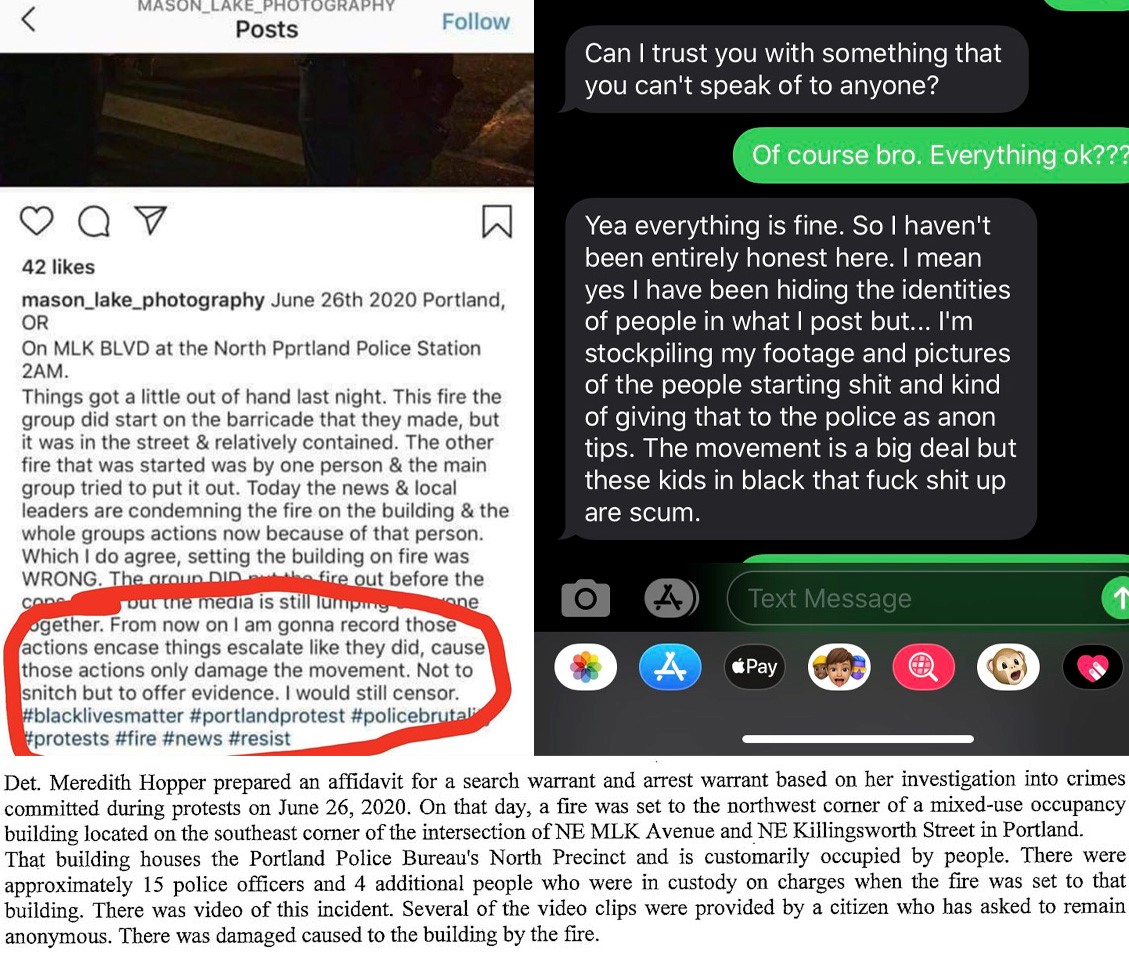 Not long after the protest at the North precinct, a Twitter user released screenshots and screen recordings of messages they received from Mason Ryder Lake. The messages included an admission from Mason Lake that he was sending videos he took of protests to the Portland Police. Mason Lake was on the ground for the insurrection at the North precinct and took video footage throughout the night. The next day, Mason Lake announced his plans to snitch and justified it by saying that "those actions only damage the movement". We have continually observed the use of abstract and meaningless terms like "the movement," "the community," and "protest leaders" to justify snitching, peace-policing, and violence against those who attack the state. These terms are often weaponized by politicians to decry acts of self-defense against police, attacks on private property, and looting. We refuse to acknowledge the existence of one singular "movement," and instead embrace the idea of limitless "movements" and relationships, temporarily coming together to attack the state. We strongly encourage folks to revisit the zine "Clash of Communities," available on Sprout Distro.
Mason Ryder Lake is an admitted snitch and actively endangers the people around him. Mason continues to show up to protests and take videos and remains active in "radical" adjacent spaces in Portland. Mason Ryder Lake currently lives in a second floor apartment at 2032 NE Schuyler Street in Portland, Oregon. He drives a dark red (Merlot) 2004 Hyundai Santa Fe with Oregon license plates that read "455 LBJ."
Gavaughn Streeter-Hillerich has served half of his five year sentence with little to no support from anarchists and other supposed "radicals." We urge you to write to Gavaughn, who is currently incarcerated at the Oregon State Penitentiary (send letters to Gavaughn Streeter-Hillerich, Oregon State Penitentiary, #19203494, 2605 State St. Salem, Oregon, 97310).
"Press" is just another word for "Snitch."
Since the start of the George Floyd uprising, anarchists in Portland have done a good job informing protesters of the dangers of cameras, livestreams, and cellphones at protests. Some journalists have tried to adapt their practices by blurring faces, delaying posts, and avoiding videos that show faces, and to them we say: it is not enough. Put down your camera, put down your phone, and fuck off. Even if the media you publish is supposedly "safer," the state will still use it to kidnap our friends while you reap social and monetary capital. Donate all the money you earned doing protest "journalism" to the political prisoners you've helped the state capture, delete your social media and go take some real action for once in your life.
Your favorite "movement" journalists have had their pictures and videos used to put people behind bars. No matter their intentions, this is snitching. We will provide a specific examples in this section.
Cyan Bass is currently serving a four year prison sentence at Oregon State Correctional Institute in Salem, Oregon. They were arrested for their actions during a September 23, 2020, protest at the Justice Center. The federal affidavit against Cyan features several videos that were posted publicly to Twitter. One of the videos was posted by Garrison Davis, AKA @hungrybowtie, and shows flame on a plywood section of the building. Another video, taken by Alissa Azar, shows a second fire burning the awning of the building. These supposed "anarchists" built huge (and profitable) online followings off of the 2020 uprising. They gained money and clout by exploiting those actually throwing down in the streets, while making it more difficult and dangerous for people to do so. Still, they continue to try to join anarchist spaces as if that all never happened.
Taking videos of fires so so people can ogle online does not help anyone except the poster and the state. These videos are extremely useful for investigators and are used by prosecutors to bring serious charges against people. When prosecutors are in court arguing for harsher sentencing, a video of a fire at its peak is much more helpful to the state than the unclear pictures of the often not very visible aftermath.
Please write to Cyan, more information can be found here: https://archive.ph/f5fc5#selection-267.0-273.19
In another federal case brought stemming from July 2020 protests against the feds (3:20-cr-00352-IM), a protester was charged and sentenced for throwing a firework over the fence surrounding the fed building. Because that person is no longer in prison, and may be trying to move forward from their conviction, we will not be using their name in this article (this also applies to other cases we will be talking about below). The federal affidavit contained screenshots from several different videos, but primarily relied on Youtube videos posted by Ruptly and shot by Tuấn St. Patrick. The feds also cited a now-deleted Youtube video that was posted by a Seattle chud named Saleem Juma and information gleaned from 4chan Nazi accounts on Twitter.
One of the earliest arrests from the George Floyd uprising in Portland stems from the first night of insurrection, when crowds breached the JC and lit fires inside the building. Photographers and journalists captured footage that showed tattoos and faces, and was used to arrest and convict protesters, like in Case 3:20-cr-00298-SI. The affidavit for this case has pictures from Alex Wittwer and screenshots from a video that was posted to Twitter by Sergio Olmos. An uncovered tattoo was key in the identification of the individual in this case, and we want to take this opportunity to remind everyone to cover any and all tattoos at protests or other direct actions.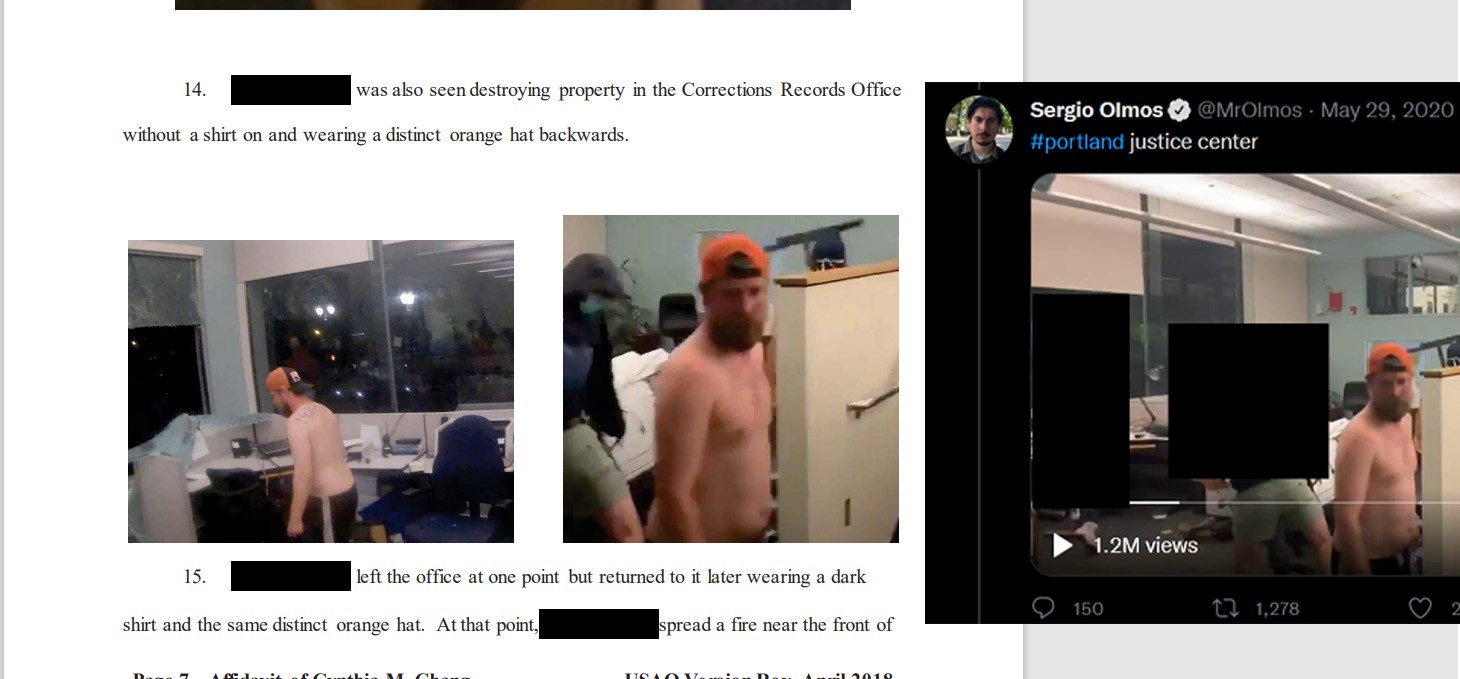 As people fought back against the militarized federal agents that were sent to the city in 2020, journalists and livestreamers profited from the increased national and international attention on Portland. During one night of protests in July 2020, a fed got hit in the head with a hammer while attempting to attack protesters. Justin Yau AKA PDocumentarians took a video of this and posted it to Twitter. This is the sole video analyzed in the federal affidavit against Jacob Gaines, who was charged with assaulting a federal officer with a deadly weapon. After entering a "guilty" plea, Jacob was sentenced to 46 months in federal prison and is currently being held at FCI Sheridan. Please write to Jacob Gaines, more information can be found here: https://archive.ph/f5fc5#selection-235.0-235.108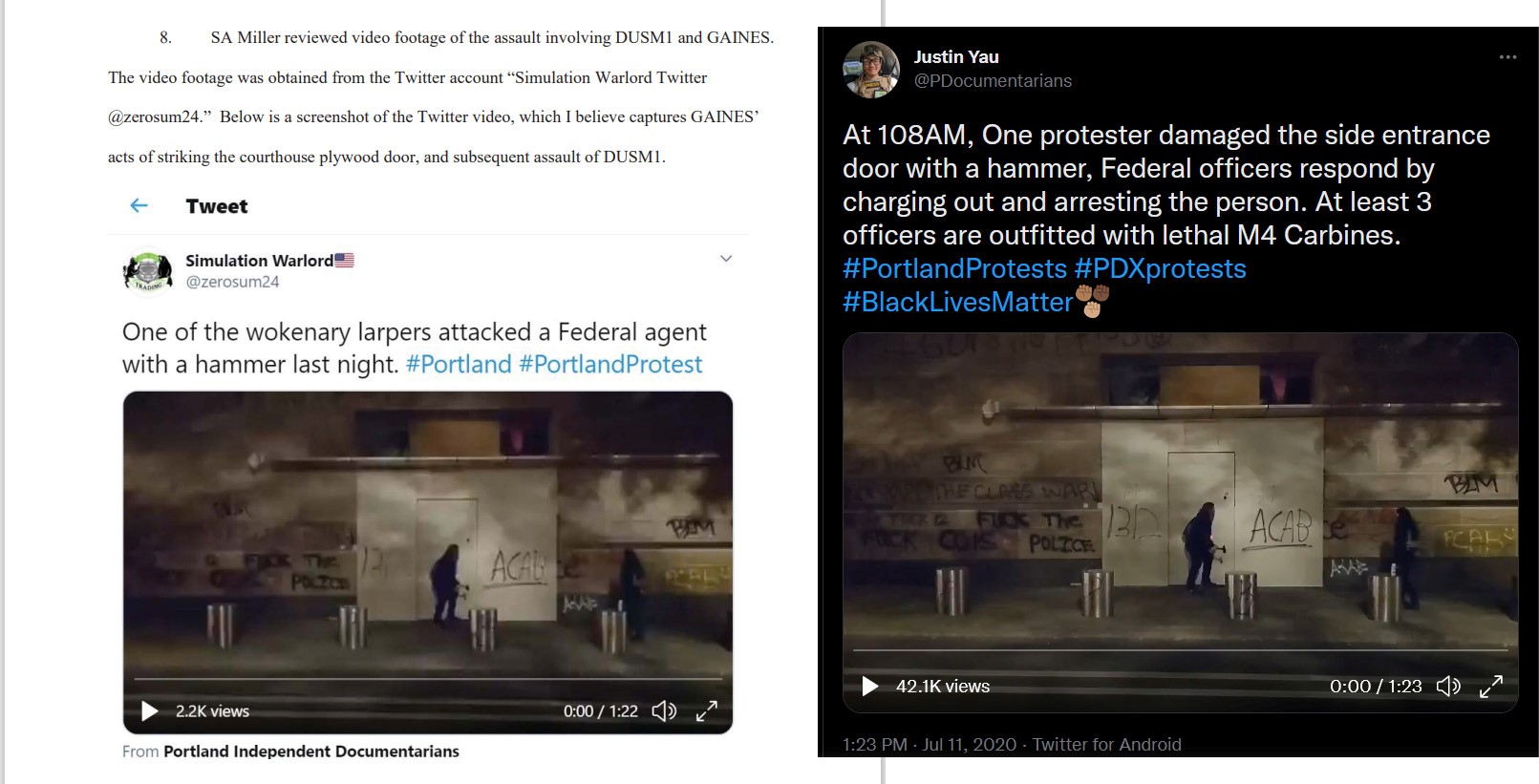 Another arrestee from the July 2020 protests (3:20-cr-00263-IM), was identified from a livestream video that was captured by another party and uploaded to Youtube. The livestream, which showed a protester moving a piece of burning wood towards the federal building, was taken by Tre Stewart, a "movement" livestreamer from Eugene and part of the group Boop Troop Eugene. Boop Troop Eugene has consistently sided with Mason Lake and other snitches.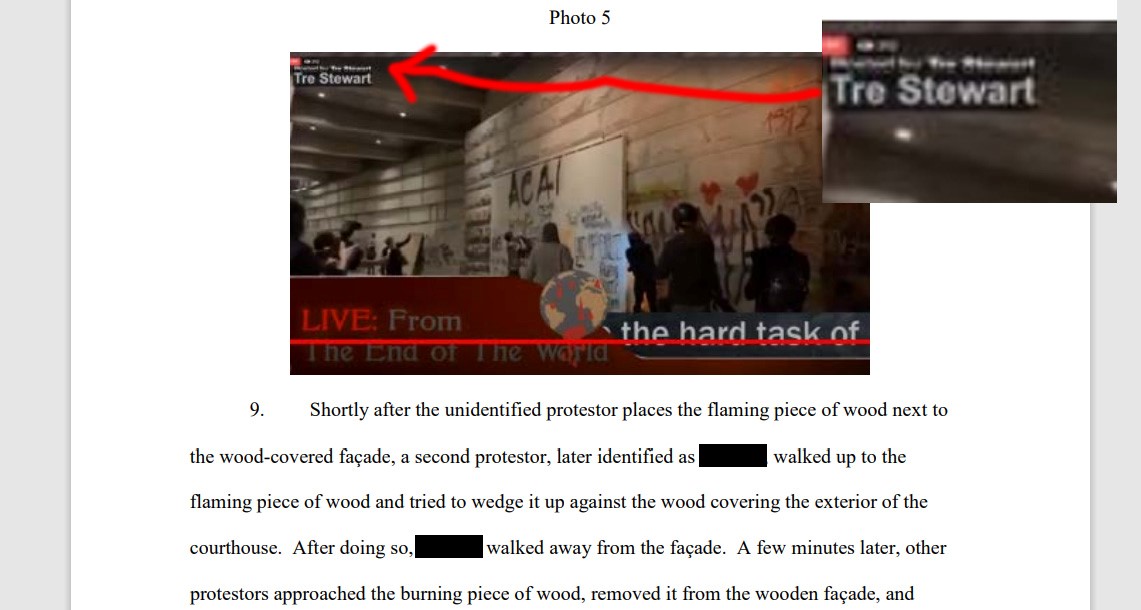 Malik Muhammad is currently in prison after federal authorities brought extremely exaggerated charges against him for alleged actions at multiple different protests. After being arrested by federal police, Malik was held in solidarity confinement in Multnomah County for three months. He had previously been arrested at the Indigenous night of rage after being followed from the protest by an undercover FBI agent. The federal complaint against Malik alleges that he threw a molotov cocktail at PPB pigs behind the justice center on the night of September 23, 2020. A screenshot from a livestream by Sol Luna, a party-promoter turned protest grifter, appears in the complaint. The screenshot shows a distinctive bag worn by a person in bloc. Sol Luna (AKA DeAndre Bush) voiced his desire to shoot protesters for touching or blocking his camera on multiple occasions. More videos used by the state come from Suzette Nichole Smith, a yuppie "art" journalist who works for the Portland Mercury.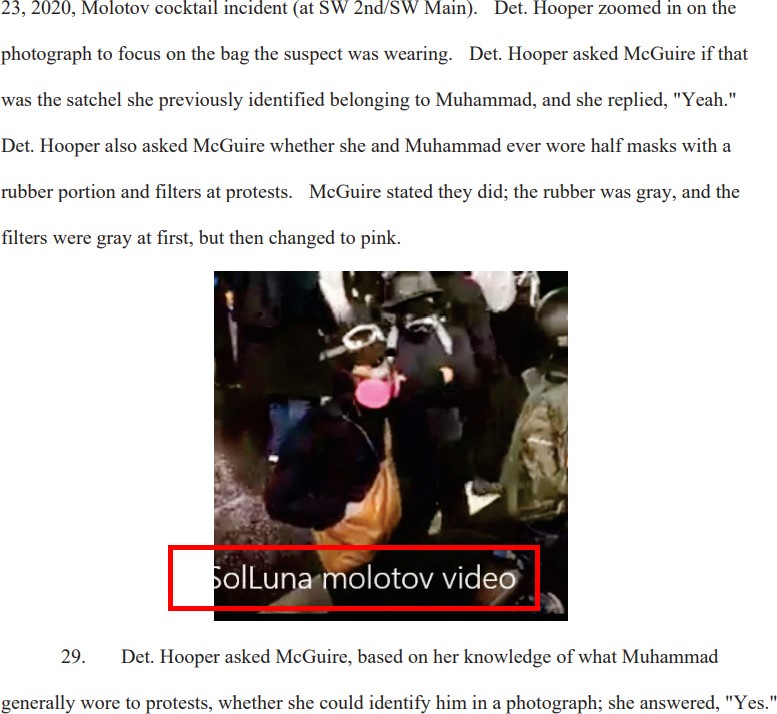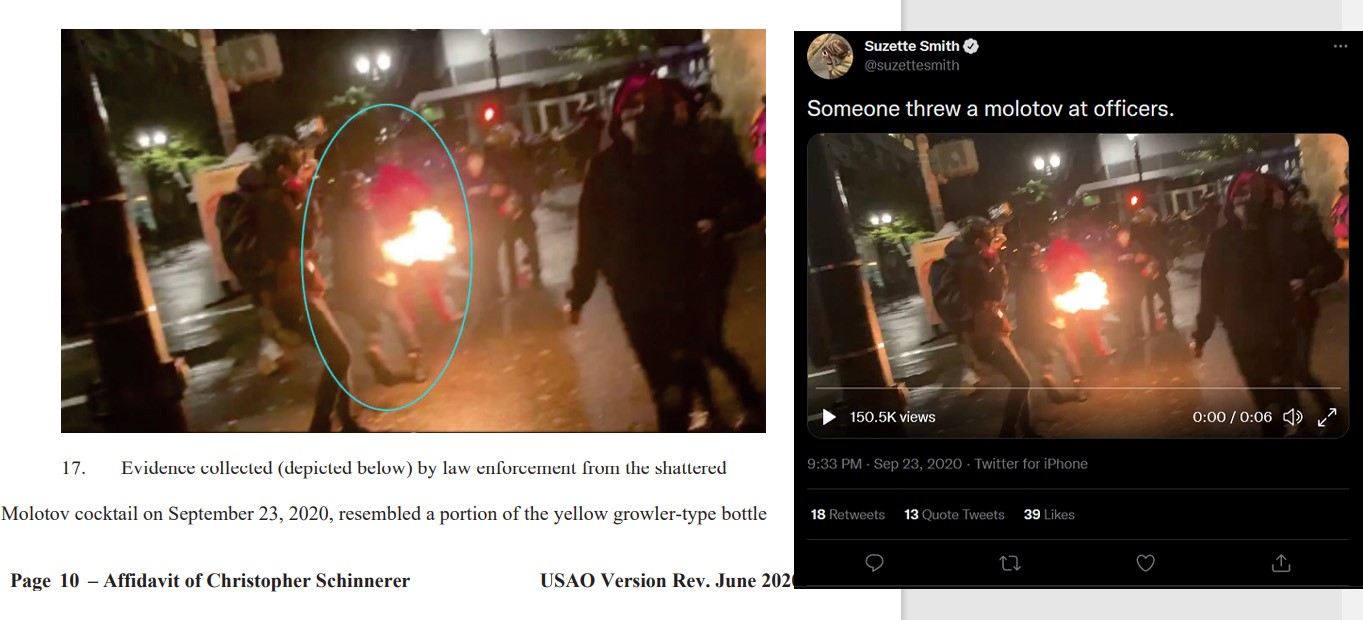 Malik is serving 10 years, the longest sentence of any person arrested from Portland protests. He deserves our unwavering support, and friends of Malik have a website that folks can visit for more information on supporting him and his family: https://antirepressionpdx.com/defendants/malik/
A protester was arrested on charges including assaulting a federal agent after attempting to disrupt an arrest by federal officers during the July 2020 protests. The affidavit shows several frames from a video that shows a fed getting hit with a wooden baseball bat while trying to kidnap another protester. The frames are from a video package for Ruptly, posted to Youtube by Justin Katigbak. Investigators used the clothing from the Youtube clip to locate the suspect in a livestream from Andrew Kimmel, the current head of live video for Buzzfeed news. Additional images of the suspect were located, providing a detailed view of the same distinct outfit. A cop recognized someone walking around in the same outfit away from the protest and called in backup to arrest them. Although this arrest would not have been possible without the contributions made by livestreamers and other journalist snitches, it should also be a reminder to change and get rid of your clothes after you do sketchy shit while wearing them. Ideally, clothing and any tools used should be disposed of across multiple different locations, or even burned. Shirts pants and tools are easy to steal, but you can't steal back the time you spend behind bars. Ditch your stuff!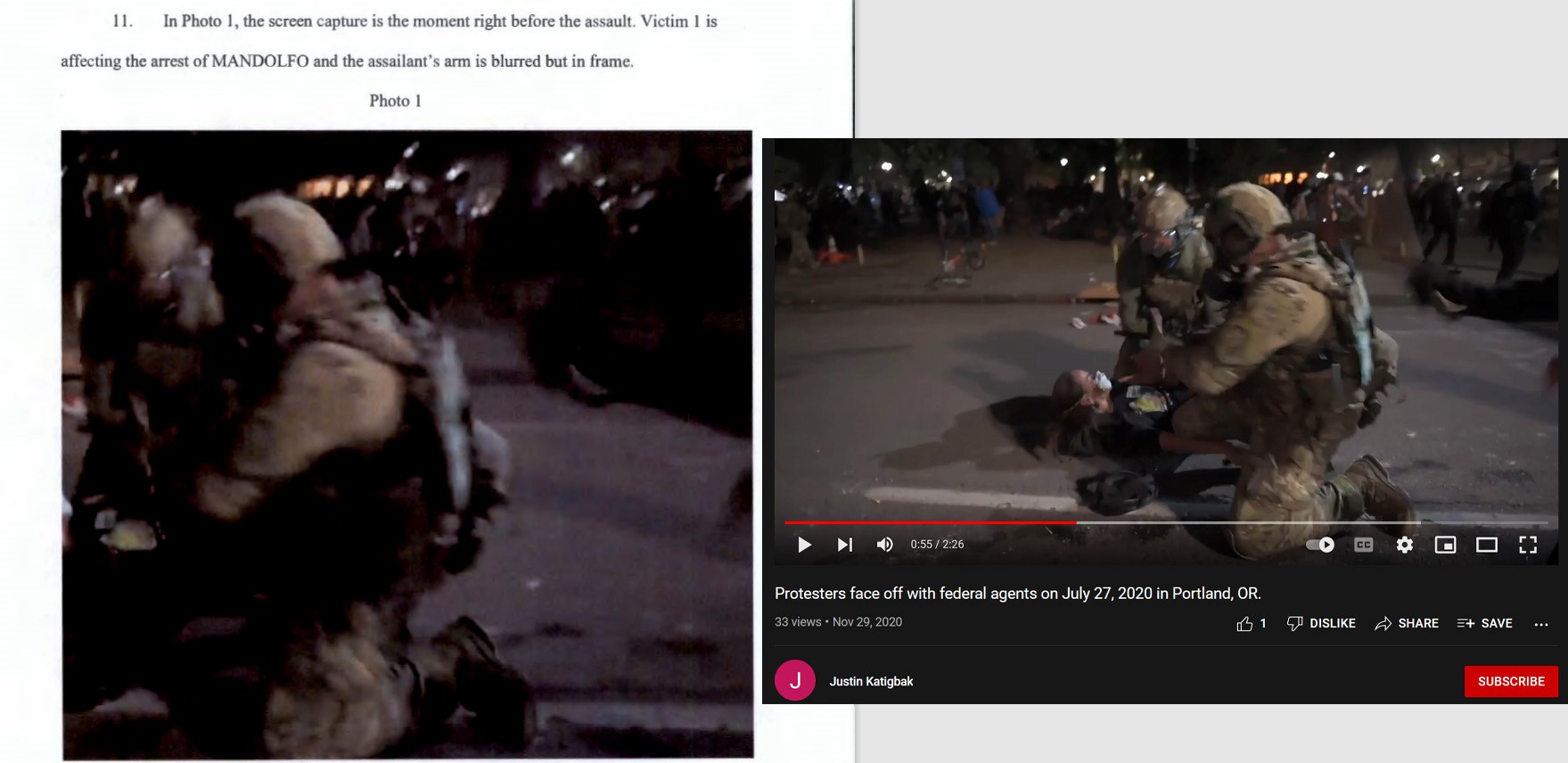 The feds were not the only ones who used livestreams to target specific protesters and make arrests, both during and after protests. The Portland Police also frequently used livestreams and videos that were posted to public websites like Twitter to investigate crimes and set up targeted arrests on the ground. The rapid response team (RRT), while intact, relied on livestreams during large events. On the 100th consecutive night of protests, riot cops got pelted with fireworks, bottles, and (almost) molotovs. A cop on the Rapid Response Team used a Twitch livestream from self-proclaimed "anarchist" Dak, AKA Dakisback. They were embedded in the main crowd of protesters while live and captured a video of a person throwing a mortar towards the riot line. Someone "clipped" this part of the livestream and titled it "molotov cocktail thrower," and the cop viewed this clip and references it in the arrest affidavit. After locating the same person on another livestreamer's feed, the cop let the PPB surveillance plane know the person's position. The Cessna continued to track the individual the crowd started to march, and eventually directed an arrest team to the suspect, some distance from the starting point of the night.
The Portland Police airplane is not known to be hacking your phone (though you should leave it at home nonetheless), but it is constantly in the sky above protest events providing aerial video and directions to the police on the ground. The video is not great quality- it cannot identify faces or license plates, but it is enough to track an individual, group, or vehicle. The police have to rely on IR visuals (thermals) after dark, which is even less reliable than their daytime camera. The plane is only able to follow one target at a time and still manages to lose sight of targets regularly.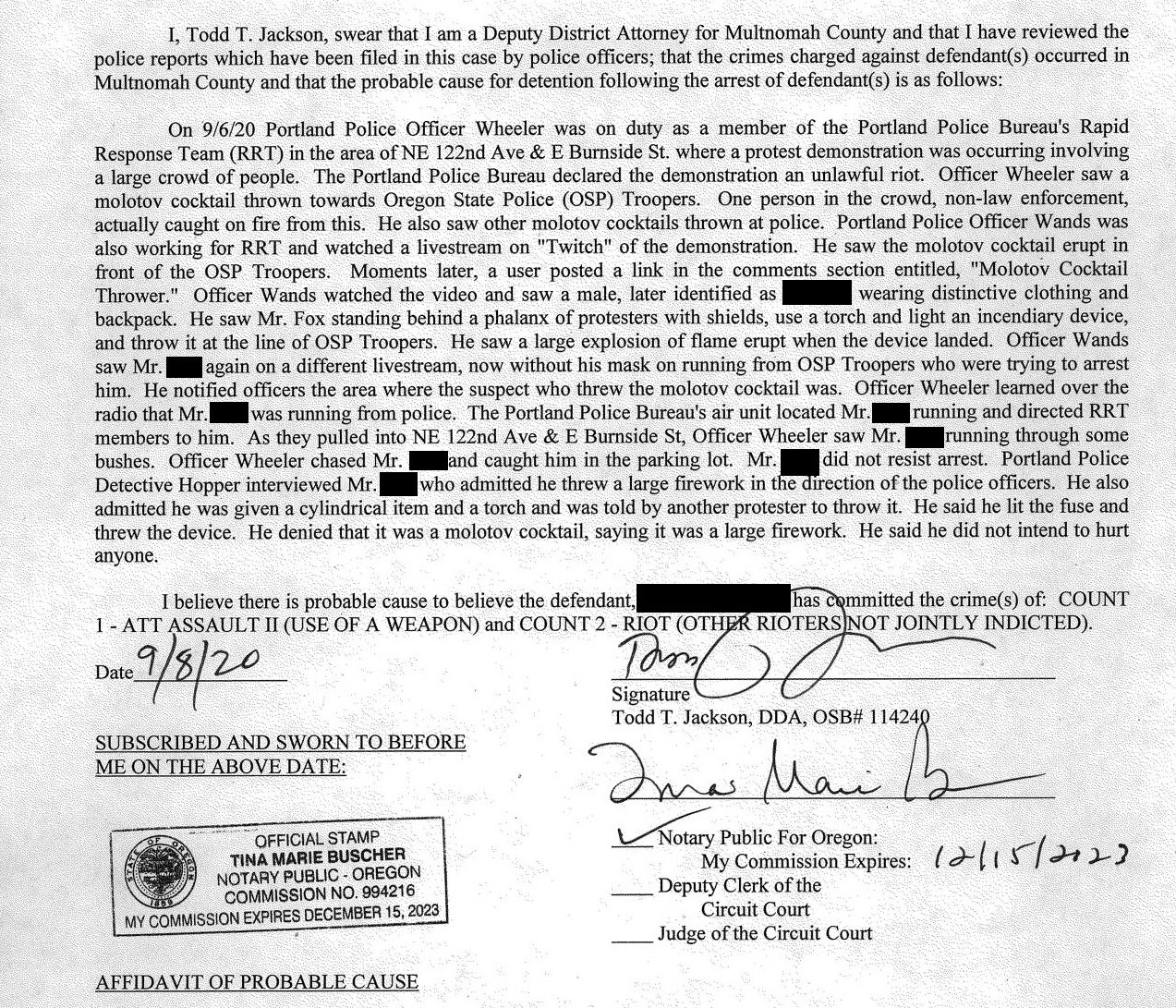 Smashing cameras is not enough. Many of the snitches who were instrumental in putting people in cages for years still rub shoulders with leftists in Portland and continue to put the freedom of others in jeopardy. They must be forced out.
We will leave you with some words from political prisoner Cyan Bass: Things will reach a boiling point again. And when they do, remember to stay dangerous. Be water. Spread fire. Dissent. But also be safe. Think things through. Think of family, friends and yourself.
Support political prisoners!
Guide to writing a letter: https://nycabc.wordpress.com/write-a-letter/
Upcoming letter writing events (PDX ABC): https://twitter.com/PDXABC
ZINES
Who are you streaming for? Three criticisms of livestreaming
In Defense of Smashing Cameras
An Imagined Dialogue With a Defender of Taking Photos of People