From Rose City Radical: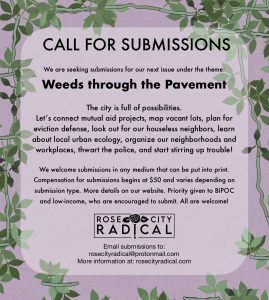 CALL FOR SUBMISSIONS
We are seeking submissions for our next issue under the theme: Weeds through the Pavement.
The city is full of possibilities. Let's connect mutual aid projects, map vacant lots, plan for eviction defense, look out for our houseless neighbors, learn about local urban ecology, organize our neighborhoods and workplaces, thwart the police, and start stirring up trouble!
We welcome submissions in any medium that can be put into print. Compensation for submissions begins at $50 and varies depending on submission type. More details on our website. Priority given to BIPOC and low-income, who are encouraged to submit. All are welcome!
Email submissions to:
rosecityradical@protonmail.com
More information at: rosecityradical.com